Primary schools dump 'predictable' picture books as reading tools
Clayton South Primary principal Greg Clement wasn't happy with the books his school used to teach children to read.
Filled with predictable and repetitive text, the books had matching pictures that the children could use to guess many of the words.
Clayton South Primary students Jay Rose Garcia and Sienna Thea are learning to read using systematic synthetic phonics. Credit:Joe Armao
Though they were standard in most Victorian primary schools, Mr Clement feared the books were papering over many students' literacy struggles, especially those from a non-English-speaking background.
"We were just finding so many kids were being left behind; the same ones every year," he said.
So he got rid of the books during lockdown last year and replaced them with about $15,000 worth of new readers – a large expense for a small state school with just over 100 students.
"We chucked them out," Mr Clement said. "The previous books we sent home were called predictable texts and you basically had to look at the picture and guess what was on the page. A sentence might say, 'The hippopotamus jumped in the lake,' and there is a picture of that."
Clayton South is one of a small but growing group of Victorian schools that are rejecting conventional "balanced literacy" techniques, where children learn to read using whole words, in favour of synthetic phonics, where they are taught to read using the 44 sounds in the English language and the letter combinations that make them.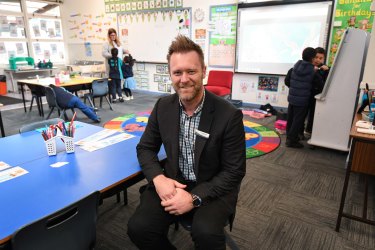 Clayton South Primary principal Greg Clement has introduced a new method of teaching students to read. Credit:Joe Armao
Clayton South's rejection of "visual memory" as a literacy tool in the early years is mirrored in the draft Australian curriculum, released this month, which deleted reference to visual memory as a technique in year 1.
Jennifer Buckingham, director of strategy at literacy program MultiLit, said it was good that visual memory had been cut from the draft curriculum, arguing its removal "signifies that is not a good way to remember what words are".
But she said the curriculum authority had missed other opportunities to ditch predictable readers from school content.
"It sets up a reading habit in kids where, instead of decoding unfamiliar words using the knowledge of letter-sound correspondences, they look at the picture," Ms Buckingham said.
Australian Curriculum, Assessment and Reporting Authority chief David de Carvalho said the new English curriculum placed significant emphasis on systematic phonics instruction for learning to read, but said teachers should match it with the needs of their students.
"The proposed curriculum allows teachers to choose a range of texts to develop students' decoding, comprehension, vocabulary and fluency and importantly to foster enjoyment in reading and an appreciation of literature," he said.
Jordana Hunter, school education program director at the Grattan Institute, said the "reading wars" had stood in the way of following the evidence on best practice on reading instruction.
"It can make it seem like teachers have to choose between phonics or using rich literature in quality stories in their classrooms," she said.
"Of course teachers can and should use both. Teaching phonics systematically from day one, and giving students plenty of opportunity to practise with decodable readers, gets children up and reading on their own quickly.
"At the same time, sharing rich stories in the classroom with the whole class introduces students to the beauty and excitement of literature and expands vocabulary and understanding."
The NSW government committed in 2018 to give state schools $50 per prep child to spend on decodable readers.
Start your day informed
Our Morning Edition newsletter is a curated guide to the most important and interesting stories, analysis and insights. Get it delivered to your inbox.
Most Viewed in National
From our partners
Source: Read Full Article