A New Report Claims Jennifer Aniston and David Schwimmer Are Dating!
So, last night when everyone was minding their own business, a report dropped that Friends stars Jennifer Aniston and David Schwimmer are dating. Which, if true, would be BRAND NEW INFORMATION. But, like…is it true? Let's dive in, she says, while trying to remain calm.
The original claims appear to have come from a source who spoke to Closer. Ahem:
Obviously, this source is referencing the Friends reunion, where Jennifer and David admitted to having crushes on each other. They went on to say that the pair are now "spending time at Jen's home, where she's cooked dinners in the evenings, and have enjoyed quality time together, chatting and laughing. They were also spotted drinking wine, deep in conversation, as they walked around one of Jen's favourite vineyards in Santa Barbara, where it was clear there was lots of chemistry between them."
At this point neither Jennifer nor David have commented on this report, BUT it should be noted that there are already claims floating around that it's simply not true. Popular celebrity gossip account @DeuxMoi shut down the story, telling followers on Twitter and Instagram "sorry but this is not true" and "I forgot to add that I have it on VERY good authority that this is not true."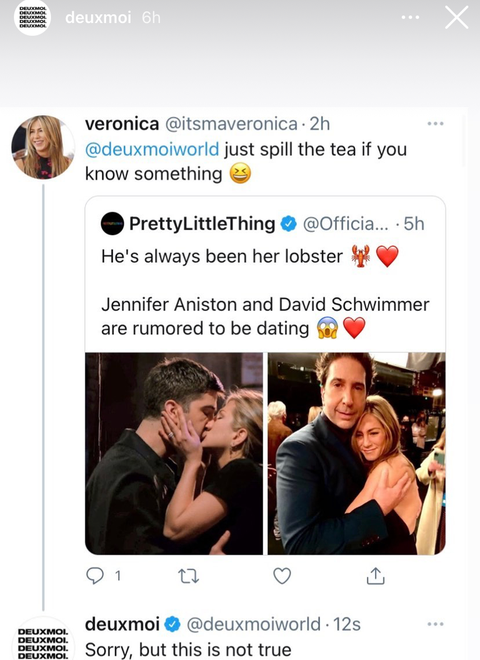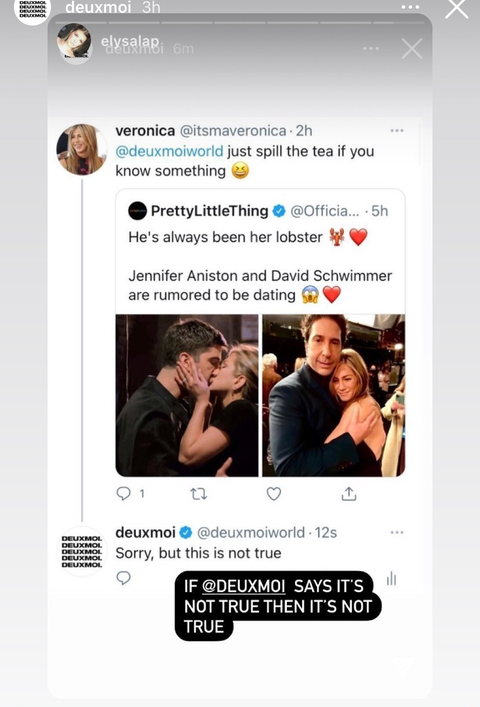 So…in conclusion? Probably best to wait until Jen or David say something to fully spiral.
Source: Read Full Article