A$AP Rocky: 'People weren't wearing satchels when I came in the game'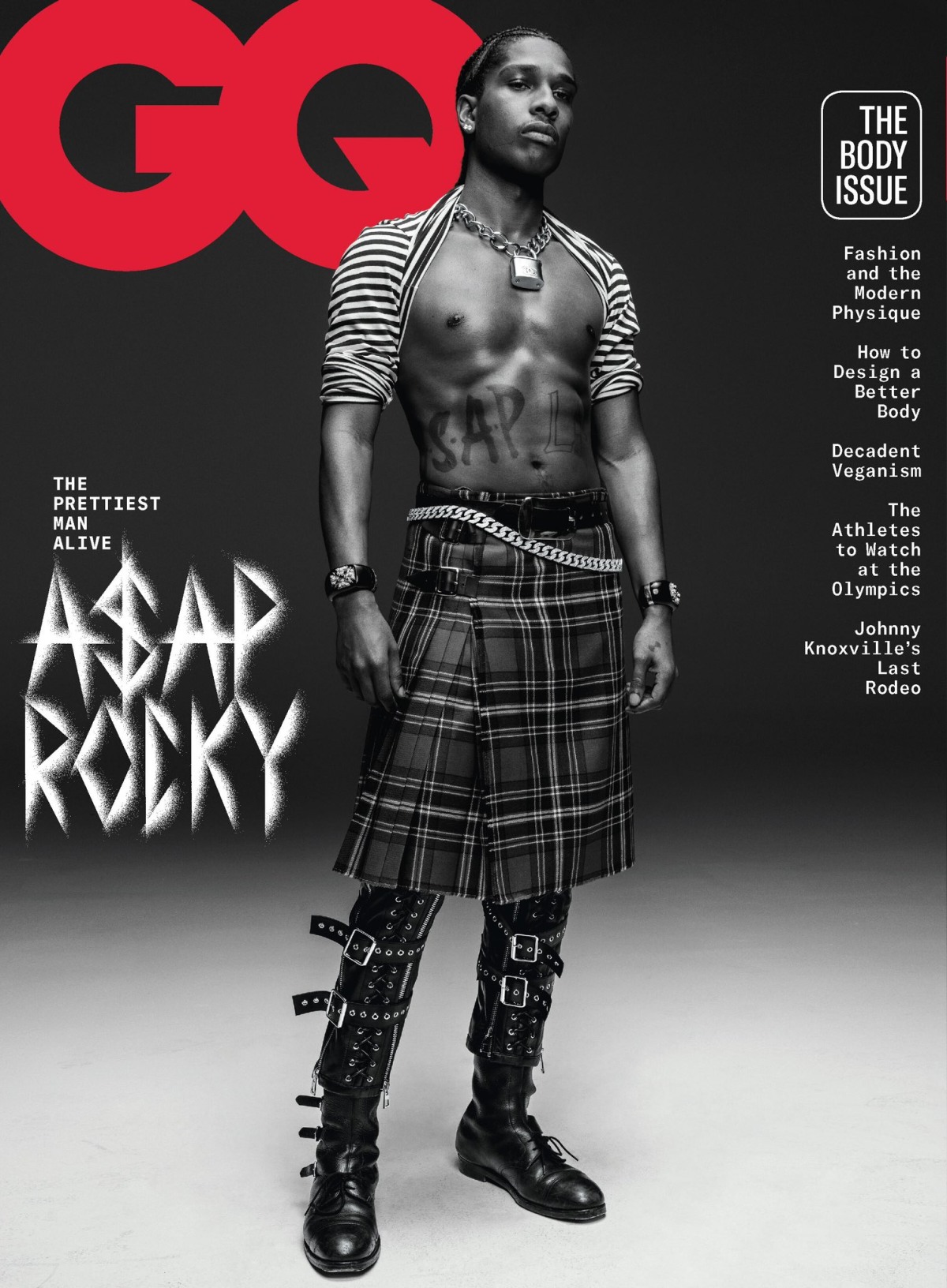 A$AP Rocky covers the latest issue of GQ. This is actually his first big interview since all of the sh-t went down in Sweden in 2019. That was when Rocky and his crew got into a brawl with some Swedes. Rocky's version of the brawl was that the Swedes started it. The Swedes' version was that Rocky and his crew did some property damage or something. Swedish authorities arrested and detained Rocky for several weeks before he was allowed to fly back to America. He was convicted of some charges in absentia and basically encouraged to never come back. The entire time, Donald Trump was making an ass out of himself and live-tweeting his attempts to bribe or extort Sweden for Rocky's release. The whole thing was a diplomatic clusterf–k. Rocky spoke about all of that with GQ, plus he talks quite openly about his now year-long relationship with Rihanna and a lot more. Some highlights:
On being locked up in Sweden: "I've been locked up," he says with a shrug when I ask if incarceration was one of his greatest fears. The Nordic prison food was "trash," according to Rocky, and the experience of being in near total isolation for a month was "probably the most boring thing you could think of." But Rocky prefers to look on the bright side: Kronoberg remand prison, he recalls, was much cleaner than Rikers.

On the idea that Trump freed him: "A misperception. He didn't help—he made efforts and he rooted for me to come home, but he didn't free me.." [He worried that Sweden would keep him locked up for longer when Trump started tweeting "because they felt like they had a point to prove because he kept saying stuff.… We knew what was going to happen, and it happened the same way they said it would weeks prior. I was hoping it wouldn't turn for the worse."

Still, he was thankful that Trump took an interest: "I was mad thankful that he did that, because he didn't have to! He took the time out of his day." The support he received from the president and others, he says, "made me happy while being in there, because when you in jail, you feel like nobody cares. You can get lost, and you feel soulless. Like, you feel low, bro."

He doesn't drive much when he's in LA: Even when he's in L.A., Rocky still moves like a New Yorker. He has a Ferrari and two Mercedes, but he prefers walking, taking Ubers, and riding an e-bike. He spins around his neighborhood to relax, to clear his mind, to see what people are wearing. In NYC, all he has to do to see what styles are popping in the streets is step outside; in L.A., he hops on his bike to seek it out.

On Rihanna: "The love of my life," he calls her. "My lady." What's it like to be in a relationship? "So much better. So much better when you got the One. She amounts to probably, like, a million of the other ones. I think when you know, you know. She's the One."

Whether he's ready to be a father. "If that's in my destiny, absolutely. I think I'm already a dad! All these motherf–kers are already my sons—whatchu talkin' 'bout! Nah, but like, I think I'd be an incredible, remarkably, overall amazing dad. I would have a very fly child. Very."

His new album, All Smiles: "It's all about the evolution. If I'm still doing the same sh-t with the same sounds and the same bars and the same visuals from years ago, what's the point? You got that catalog. You can go revisit that. "I don't think [the critics are] really my concern. I'd be confused, man. I just want to make some good music, that's all. I want to feel great about doing it, and I want people to feel great about hearing it."

He collab'd with Morrissey! "Anything you need him to do, he show up and do."

His first power fashion move was making purses fashionable for men: "People weren't wearing satchels when I came in the game, I can promise you that. But we was wearing those, because that's what you trap in. You put your weed in there, you put your money in there, you put your pistol in there, you put your MetroCard in there, you put your lean in there. Anything that's supposed to be considered something to emasculate you, we figured out how to make it macho."

His fluid fashion: "The nails, the kilts, the pretty-boy swag, the pearls—I think it's just being comfortable. I just express myself with fashion, and what's fly is fly. I do it on some punk shit. This sh-t is more than just rap for me. I'm into design, I'm into detail, I'm into elevated taste value. It's a lot of tacky motherf–kers out here. Just 'cause sh-t be costing a tag on it and all that, that sh-t don't make it jiggy, bro. That sh-t don't make that sh-t fleek."
[From GQ]
The fashion stuff was a huge part of the interview and I loved every minute of it. GQ said he has rich-grandma drip, complete with manicures, silk scarves, expensive purses and pearls and he was basically like "yeah, and?" When he was in jail in Sweden, to pass the time, he started sketching out a line for a fashion collaboration which had not even been discussed yet – once he got out, he went to Paris and the collab happened. He also says that he's not interested (at the moment) in creating his own line from scratch, that he prefers to keep it loose and collaborate and highlight up-and-coming designers. He has a good eye and I realized throughout the piece that Harry Styles stole a big chunk of Rocky's style. Oh, and he's crazy in love with Rihanna! Like, he wants to marry her and have babies with her and I'm really into it.
https://www.instagram.com/p/CPDiklvl4MS/
A post shared by GQ (@gq)
Cover and IG courtesy of GQ.
Source: Read Full Article