Mayor of Kingstowns Jeremy Renner reaches out to fans during recovery from accident
Jeremy Renner has returned to social media following his snow plough accident to mark the season two premiere of his crime thriller, Mayor of Kingstown.
At the beginning of the month, the Hawkeye actor was run over by his own snow plough at his home in Reno, Nevada. The incident left him with horrific injuries in hospital, where he is still recovering two weeks on.
WATCH: Are you enjoying the new series?
Following the show's debut on Paramount+, the Marvel star took to Twitter to ask fans what they thought of the opening episode. "Let me know what you know think!!!" he wrote, sharing a snap of the actor in character as Mike McLusky.
Viewers were quick to take to the comments section, with many praising the show. One person wrote: "Watching it right now. I'm loving it!! You're a great actor. I so cannot wait for the rest of the season. Great job Jeremy," while another added: "It was a pretty good season two start, excited for the rest of the season."
A third person commented: "Your best role to date! You nailed it."
MORE: Who is Jeremy Renner's ex-wife and does he have a girlfriend now?
MORE: Jeremy Renner's sweet move prior to news of accident and hospitalisation
Many fans also took to the opportunity to send the 52-year-old well wishes following his accident, with one person writing: "So good, as expected! Really hope you have a successful recovery Jeremy!" while another added: "Watching it later on today, speedy and healthy recovery."
Jeremy reached out to fans
A third tweeted: "Show aside. Just take care of yourself. Get strong. Heal up. The world needs you."
For those of you who are unfamiliar with the drama, it's an action-packed prison thriller set in the fictional town of Kingstown, Michigan, where "the business of incarceration is the only thriving industry."
It follows the McLuskys, a local family who are described as "power brokers between police, criminals, inmates, prison guards and politicians."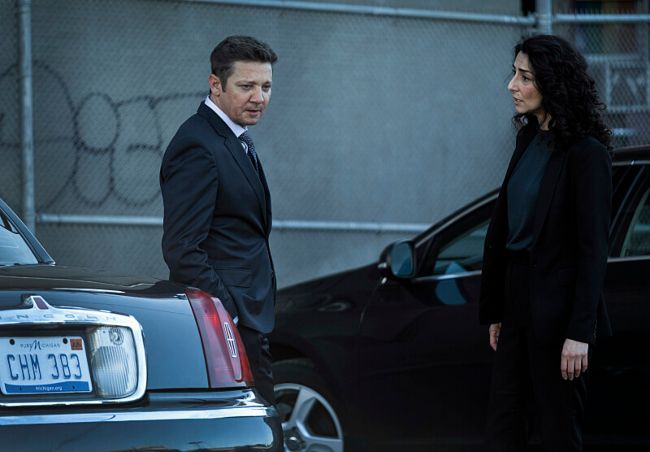 Jeremy with Necar Zadegan in season two
One of the show's producers, Antoine Fuqua, described the thriller to The Hollywood Reporter: "The series offers a comprehensive look into the brutal prison system where sociopolitical issues run rampant. Prisons are a forgotten world to most of the population and yet represent a microcosm of society as a whole."
Mayor of Kingstown seasons one and two are available to stream on Paramount +.
Source: Read Full Article