Kendall Jenner Wasn't a Huge Fan of Kim Kardashian Naming Her Son Psalm West
Take yourself back to three months ago. You were likely scrolling through the internet killing some free time, when SUDDENLY—Kim Kardashian announced the name of her newborn baby! How exciting! Kim revealed on Twitter that her baby son's name is Psalm West…Psalm, as in the biblical Book of Psalms. I mean, it's been pretty obvious that Kim and Kanye were (and still are) getting pretty religious with their Sunday Services, but like…really? Naturally, people online were wondering why Kim and Kanye picked the name Psalm in the first place. As it turns out, Kim's very own sister, Kendall Jenner, was thinking the same damn thing.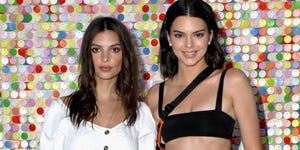 Last night, Kendall made an appearance on The Tonight Show Starring Jimmy Fallon and basically confessed that she wasn't super happy with Kim's choice of baby name. In fact, Kim forced Kendall to help her pick and went against her wishes anyway.
"Kim made me come to her house and like, help her pick a name," Kendall said. "She would not let me leave the house until we figured out a name. And then ended up going with a name that I didn't even—like, that I didn't care for as much. I think they were all really beautiful, but I was kind of rooting for another name."
Honestly, same. Watch Kendall spill all the tea below:
Regardless of the name choice, Kendall still has tons of love for her nephew and isn't holding his name against him (or Kim for that matter). "He's awesome. He's so adorable," she added.
Let's be real though—the name could have been worse! It's not like Psalm's name is Tree or Berry or Light, right? Sometimes, it's the little things that count.
Source: Read Full Article